StylAir's Condensate Purifier

StylAir's Model SCP condensate filtration system is designed to remove lubricant and coolant from air compressor condensate.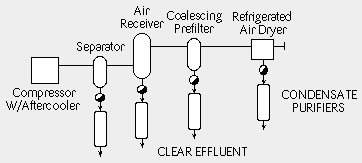 Using a patented new technology, the filter modules separate both petroleum and synthetic lubricants/coolants from air compressor condensate. Factory and field tests show discharge from the SCP modules to have less than 10ppm lubricant/coolant. Typical applications for the SCP system are compressor aftercoolers, air dryers, air/oil demisters, coalescing filters, air system droplegs, and other applications that require separation of water from the contaminants.
StylAir SCP modules replace old-fashioned, expensive, hard-to-maintain traditional oil-water separators. Competitors' systems may only remove selective contaminants or allow hazardous materials to pass through if an upset occurs. The StylAir SCP modules not only separate the waste material but retain the contaminants for easy disposal.

Get more information...
The StylAir Condensate Purifiers will effectively remove lubricants/coolants manufactured from base stock such as:

PAOs
Polyalkel-eneglycols (PAGs)
Silicone
Diesters and esters
Petroleum and super refined petroleum

Some products utilizing these base stocks appear commercially as:

Sullair's Sullube 32 and 24KT fluid
Ingersoll-Rand's Ultra Coolant
Gardner-Denver's Aeon Fluids
Quincy's QuinSyn
Atlas-Copco's GA, FG, 4K, 8K, and Roto Fluids
And many more...

(All trademarks and registered trademarks are property of their respective owners.)