StylAir's Condensate Purifier - More Info

"The StylAir SCP Condensate Purifier filtration is simple and effective!"
No Floor Space Required

The Condensate Purifier requires no floor space. It is designed to be easily installed on or near the compressor cabinet or frame.

No Moving Parts

The Condensate Purifier has no moving parts, does not use electricity, nor does it require any maintenance. It is manufactured from translucent polypropylene.

Easy, Quick Replacement

As the trapped lubricants accumulate in the filter, the filter media changes color. When the color change reaches the replacement point on the filter, simply replace the unit with a new one. The lubricant/coolant remains in the filter, eliminating any spill or mess. The spent filter should be disposed of properly in accordance with local, state and federal regulations. The treated water exiting the condensate purifier ensures compliance with current EPA, DNR federal and state hazardous waste regulations.

Back to SCP Overview...
Specifications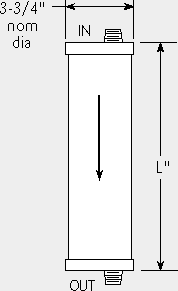 Model
Compressor/Aftercooler
Coalescing Prefilter
"L"
(HP)
(SCFM)
SCP-10520
5 - 20
up to 700
15"
SCP-22560
25 - 60
600 - 1500
21"
SCP-37513
75 - 125
1500 - 3000
31"
SCP-41500
150+
3000 - 5000
43"

All Models:

Maximum Temperature: 125°F

Maximum Pressure: 15 PSIG

Housing: Polypropylene

Connection Size:

3/4" NPT connection
(1/2" Hose Adaptors included)
Installation
The Condensate Purifier must be installed in a vertical position. The unit is marked with "IN" and "OUT" labels. The oily condensate from the compressor or other source enters the top of the filter and clean water is discharged from bottom. The discharge connection at the bottom of the filter must remain unrestricted to allow the water to drain without any backpressure.
The filter is easily installed by attaching the included mounting bracket to a nearby wall or to the compressor frame or cabinet. If the compressor is enclosed, the filter can be installed inside the cabinet maintaining a clean, OEM appearance.
We recommend plastic tubing be run from the compressor (or other source) condensate trap to the inlet of the filter. The same arrangement can be used for the discharge side.
Note: The Condensate Purifier is to be used with "no-air-loss" float drains ONLY! For best performance, a liquid only demand drain with a small reservoir that cycles frequently is best. StylAir's OA-111 series of electronic demand drains are the optimum choice.